Stars React to Their Golden Globe Nominations
3 hours ago
BuzzSugar -- Entertainment hourly.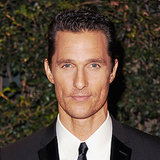 The nominations for the 2014 Golden Globe Awards are here, and the stars are already reacting to the big honors. We caught up with some of the nominees today to share their excitement, surprise, and happiness about their Golden Globe nods. See how Jennifer Lawrence, Matthew McConaughey, Kate Winslet, Idris Elba, and many more stars and show creators are handling their honors.
Matthew McConaughey
Matthew McConaughey is nominated for best actor, drama, for Dallas Buyers Club.
"I'm excited and honored that the HFPA has recognized my performance in Dallas Buyers Club. Ron Woodroof was a revolutionary for the human spirit, and I was blessed to tell his story. I'm looking forward to spending the evening at the Golden Globes on Jan. 12."
Jennifer Lawrence
Jennifer Lawrence is nominated for best supporting actress for American Hustle.
"Thank you to the HFPA. This is so exciting. I'm thrilled that the film received so many nominations and that I get to share this with the rest of the cast."
Kate Winslet
Kate Winslet is nominated for best actress, drama, for Labor Day.
"I'm extremely surprised and absolutely thrilled to be included this year!!? Thank you to the Hollywood Foreign Press Association."
Kerry Washington
Kerry Washington is nominated for best actress, TV drama, for Scandal.
"I'm enormously grateful to the Hollywood Foreign Press for this honor. It's humbling to be nominated alongside such talented and hard-working women whose work inspires me."
Greta Gerwig
Greta Gerwig is nominated for best actress, musical or comedy, for Frances Ha. Keep reading for her exclusive reaction.
POPSUGAR: How did you find out?
Greta Gerwig: I'm so surprised and excited and honored . . . I found out from a phone call, I was asleep. I didn't know that the nominations were announced today! I had read that you get a phone call really early in the morning and my phone rang and I thought I was in trouble so I ignored it and then got really anxious that I was in trouble. [Laughs] Then I looked at my phone and saw all these nominations - not nominations! Text messages, I only got one nomination! And that's how I found out. I'm verklempt, is that a word? Yes, I'm verklempt. It was totally a surprise, I feel like a cliche. I seem like I am acting too surprised!
PS: Have you given any thought to what you are going to wear?
GG: Yes I have . . . I get to wear a full-on gown and it's not going to be weird, it's going to be normal, so I'm excited about it. I've already started thinking about it in my head, it's so exciting because you usually get a special dress that's just for you. I am a total fashion junkie so I am really excited.
Keep reading for more Golden Globe nomination reactions.